Cool New cfGrid Tricks
November 12, 2009
The html format of cfgrid has some cool new tricks in ColdFusion 9. First the placement of a column can be moved by dragging it elsewhere in the grid. In the example below the 'aDate' column is moved: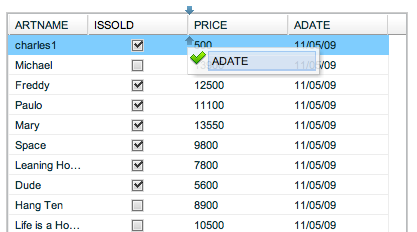 Second, when you hover over a column and click on the menu drop down the following options appear which allow for sorting or removing a column (that can then be added back).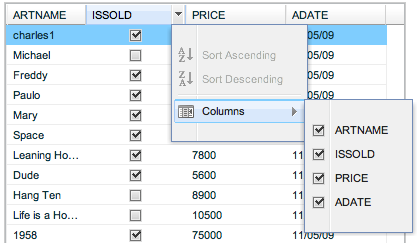 You may notice in this example that the sort options are greyed out. This is because, for some reason, sort is disabled by default on Boolean type columns. CF Mitrah found a simple solution for enabling sort posted in the comments of an entry on the four new data types.
I've rarely used cfgrid over the years but in ColdFusion 9 it starts to feel like its ready for the big leagues in part thanks to the new data types, the addition of grouping and inserting (see Akbarsait's blog entry for more) and being based on the impressive Ext JS 3.0 release.
No Comments
Some comments have been lost over the years due to moving hosts.